Our involvement in WordPress security has always been a core part of our mission here at Sucuri. We have teams who actively lend advice on WordPress support forums to hacked webmasters. We've taken a leadership role by creating sections of the official WordPress Codex relevant to security. Our company has attended over 75 WordCamps and meetups around the world.
With more than 25% of the internet running WordPress, beginners are creating a web presence for the first time using the platform.
This type of popularity also invites the attention of hackers. Beginners and novices alike are often unprepared to fix a hacked WordPress site.
Because of this, our mission is now expanding. Thanks to a new initiative, we are happy to announce a new section of our website dedicated to providing concise and comprehensive guides to website security. Please enjoy our first one – How to Clean a Hacked WordPress Site.
A Guide to Fix Hacked WordPress Sites
Our content, web design, and development teams spent months putting together a brand new guide to walk users through the process of identifying and clearing a WordPress hack, as well as ensuring post-hack actions are taken using the free Sucuri plugin.
This guide will offer an appropriate foundation for resolving a WordPress security incident.
It is coupled with an infographic that helps illustrate the cleaning process: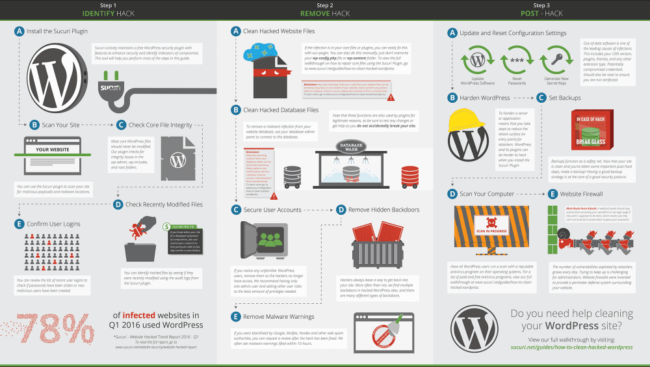 The majority of steps are easy to do with our free WordPress security plugin. Having the plugin installed before an incident occurs allows you to take advantage of audit logs and integrity monitoring features. Even if your website is clean, the Post-Hack section of the plugin and guide will help admins harden and protect their WordPress installation using best practices.
Install the Free Sucuri Plugin
Sign Up for the Webinar
This guide is also accompanied with a webinar, adding to the series of webinars we've put together over the past few months. The webinar will be hosted by our Incident Response Team (IRT). It will walk you through the various steps a website owner can take. Ben Martin is a team lead who has been with us for three years and he has firsthand experience working with today's hacks. He has spent countless hours assisting website owners like you to identify, remove, and harden hacked WordPress sites.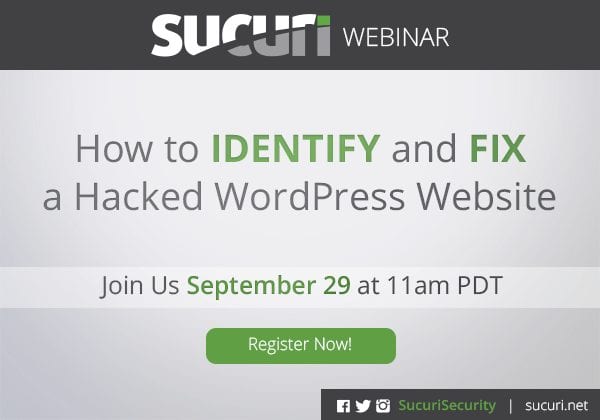 Get Help or Contribute
We look forward to receiving feedback on the guide so we can continue to improve it. These guides are integral to our vision of becoming a constant in the evolving landscape of website security. We can't do that without you, our community of loyal blog readers.
To make this guide even more valuable, we welcome insights from everyone. If you find it useful and want to suggest an update, we'd love to hear from you! Get in touch with us by emailing: marketing@sucuri.net
If you have difficulty with the guide, you can usually find help by posting on the WordPress support forums. You can also chat with us to learn how we can help you fix and prevent WordPress hacks.