Sucuri is pleased to announce the completion of a strategic expansion with the opening of a data center campus in Mumbai – India. This addition adds another layer of security and performance for customers located in the South Asian region. Our Mumbai site, along with our complete portfolio of POPs, meets the highest-tier – Level 1 PCI DSS compliance.
POP distribution of the Sucuri network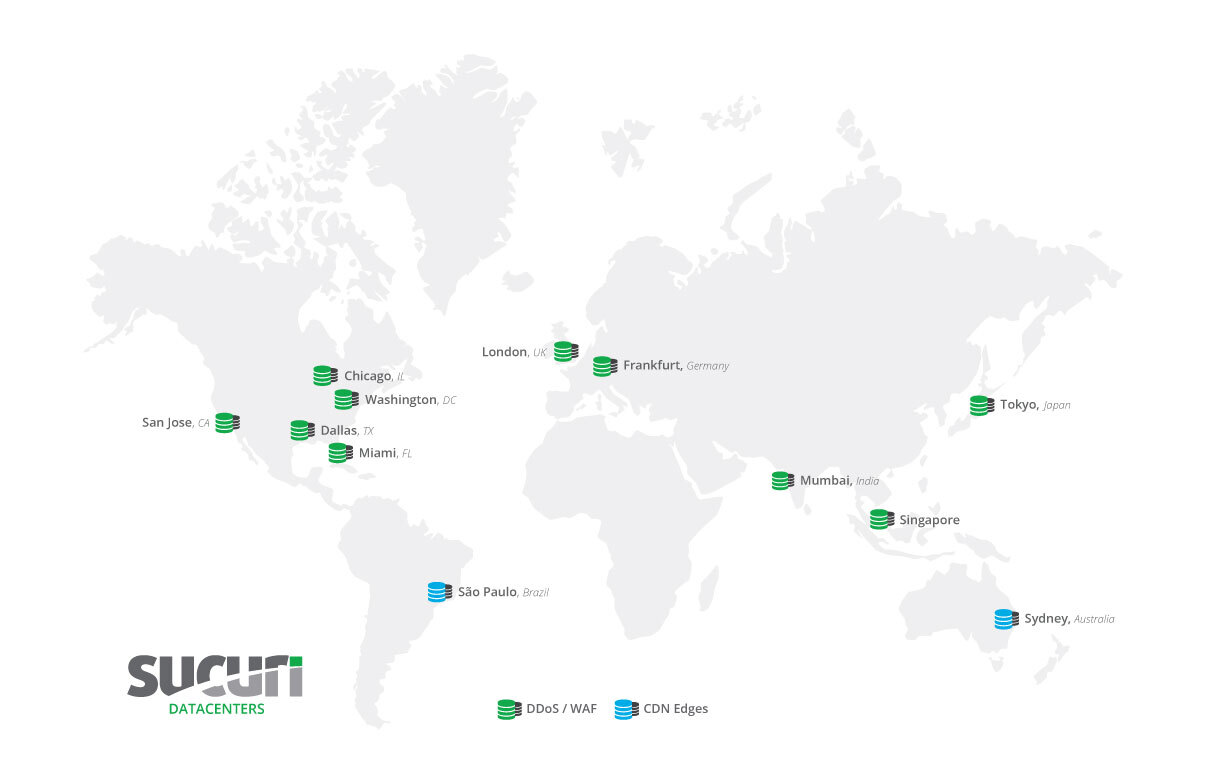 India is the seventh-largest country by area, the second-most populous country in the world, and home to several agencies and managed service providers. These factors were key in selecting this highly sought-after market for our latest data center campus opening. 
Over the years, we have added several data centers to our portfolio in key regions of the world: 
San Jose – US

 

Dallas – US

 

Washington, D.C. – US

 

Miami – US

 

Chicago – US

 

London – UK

 

Frankfurt – Germany

 

Amsterdam – Netherlands

 

Sofia – Bulgaria

 

Tokyo – Japan

 

Singapore – Asia

 
As well as CDN Edges: 
São Paulo – Brazil

 

Sydney – Australia

 
About Sucuri WAF 
Sucuri provides website security with the protection included in our WAF (Web Application Firewall)..
Our infrastructure is built within our very own proprietary Anycast content delivery network (CDN).  
Unlike other WAF products on the market, Sucuri does not charge for bandwidth throughput, or other traffic-based metrics, 
About Anycast Networking 
Anycast is a network routing method where different data centers announce the same IP addresses, making them reachable at multiple destinations. When that happens, routers have multiple choices where to send your requests and will default to the one with the shortest distance (fewer hops). Because of this, Anycast improves network connectivity and has several other benefits:   
Geo load balancing

 

Increased reliability (one data center can go down without affecting others)

 

Performance improvements

 
Primary Benefits 
Redundancy – If we experience network fluctuation or a hardware error causing downtime at one location, that location will stop advertising that website, and automatically reroute traffic to the next closest POP.

 
Protection – We can protect customer sites from attacks that would bring down most hosting providers and networks.

 
Flexibility – This relates back to number 1 on the list. We can perform any type of upgrade or maintenance on our POPs without impacting the customer




 
Please note: every POP is identical to another. They all advertise the same websites and advertise the same Anycast IP addresses. 
 If you have questions about Anycast or our network infrastructure, Contact us via email, live chat, or 24/7 through our support ticketing system for existing Sucuri customers.