One of the worst experiences a website owner can have is being blacklisted by Google. If you are one of the 10,000 websites that has been slapped with a big red malware warning, our latest, free DIY guide is for you.
Read the Guide to Removing Google Blacklist Warnings
This post will provide a bit of background on why this guide is important, and some additional information about the kinds of warnings and reports you can expect to find if your site is blacklisted.
Why Google Shows Website Malware Warnings
As the largest search engine in the world, Google takes security very seriously. Their web spam team warns searchers whenever they detect dangerous activity coming from a website listed in the Google index.
They aren't the only team out there detecting malware and placing warnings on websites.
Some companies maintain their own blacklists or leverage the Google SafeBrowsing API. This includes other search engines, like Bing and Yandex; antivirus companies, like Norton and McAfee; and browsers, such as Firefox and Microsoft IE/Edge. All of these technology companies prioritize the safety of their users, which helps keep their software trustworthy and popular.
By far, the most notorious malware warnings come from Google. As our guide explains, these warnings can be seen next to search results, inside your Google Search Console account, or by accessing your site directly and reviewing the red warning page.
Google Transparency Report
If you want to learn more about the security status of a website, the best place to visit is the Google Transparency Report.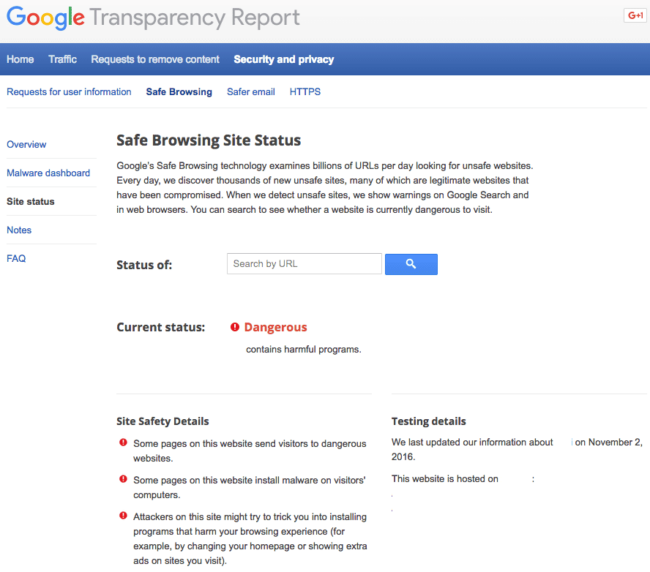 It is common practice for hackers to abuse server resources to deliver malware, web spam, and phishing pages that harm visitors while the attackers profit from black hat tactics. If your site is showing malware warnings from Google, their reports will offer some helpful information and classifications to help you make sense of why your site is being flagged.
Depending on the status and severity of issues with your site, Google will show one of three basic categorizations in the Safe Browsing diagnostic report:

Google Site Safety Details
We looked at 40 blacklisted sites to discover a range of additional warnings listed under the Site Safety Details section of the Google report.
Here is a full list of the details currently being served by Google:
Some pages on this website install malware on visitors' computers.
Some pages on this website redirect visitors to dangerous websites that install malware on visitors' computers, including: malicious-domain.com
Dangerous websites have been sending visitors to this website, including: malicious-domain.com
Some pages on this website send visitors to the following dangerous websites: malicious-domain.com
Attackers on this site might try to trick you to download software or steal your information (for example passwords, messages, or credit card information).
Some pages on this website send visitors to dangerous websites.
yoursite.com is not safe to visit right now.
Some pages on yoursite.com contain deceptive content right now.
Attackers on this site might try to trick you into installing programs that harm your browsing experience (for example, by changing your homepage or showing extra ads on sites you visit).
Safe Browsing has not recently seen malicious content on yoursite.com
While some of these provide helpful details, many of them do not give website owners much to work from.
This is why it's so important to use integrity monitoring and malware scanning to detect issues early before Google does. The new guide we created will help users understand the blacklist removal process in depth.
Help for Hacked Website Owners
For those who need to clean a hacked Joomla site or fix a hacked WordPress install, we also have guides specific to your platforms.
If you would prefer not to do it yourself, our professional Incident Response Team will clean your site for you and request blacklist removal on your behalf, plus set your site up with ongoing protection with our affordable annual plans.
We will continue developing new guides to help hacked webmasters, so stay tuned. We always look forward to hearing comments and feedback from our community, so please contact us if you find ways for us to improve these guides. It is our mission to provide the most concise website security resources on the internet so that we can help webmasters to secure their sites.