Have you ever wondered what WAF means?
WAF stands for Website Application Firewall. In order to make it simple to understand, imagine your website as a house and the people outside on the streets are the traffic that wants to come to your website.  Of course, you want to open your door to friends and family, but you also want to protect your house from the bad guys. That is exactly what the firewall does. The WAF is the locked house door. A WAF keeps the malicious traffic off your website. In other words, a WAF is a layer of protection that sits between your website and the traffic it receives.
Why do you need a WAF?
The same way that there are criminals on the streets, there are hackers online. Threats to websites emerge and evolve every day; keeping up with the hacking trends can be very stressful to any webmaster.
Network and local firewalls alone cannot stop hackers from breaking into your website anymore. Many of these solutions are not effective when it comes to stopping malicious online traffic.
Having an effective Web Application Firewall (WAF) provides companies and website owners peace of mind.
Expecting the hosts to take care of your website security can be misleading, as their main goal is to ensure the accessibility of your website. Some hosts, like GoDaddy, do offer website security. Nevertheless, you need to make sure to implement a security solution, like the Sucuri Platform to protect your website for you.
Another important aspect of having a Website Application Firewall on your website is the time it will save you in the long run. After setting up a WAF properly on your website, you would no longer be spending precious time thinking about ways to protect it. Then, if your website was, in fact, hacked, how many hours would you waste trying to find the issue and fix it? I am not even mentioning the amount of money potentially lost from having an unprotected website.
How does a WAF work?
The WAF works as a vaccine for a website. It is a preventive measure taken so your website does not get infected or goes offline. Nobody really likes to be vaccinated, but the cost of getting sick is always a thousand times higher. Having a WAF activated means having a proactive posture on your website security.
You already know that having a website firewall solution is vital to protecting any website. Next, let's dive deeper into the characteristics of WAFs.
WAF Features
Application firewalls go beyond the metadata of the packets transferred at the network level. They focus on the data in transfer. Application firewalls were created to understand the type of data allowed for each protocol, like SMTP and HTTP. There are specific application firewalls for websites and they are called Website Application Firewalls (WAF).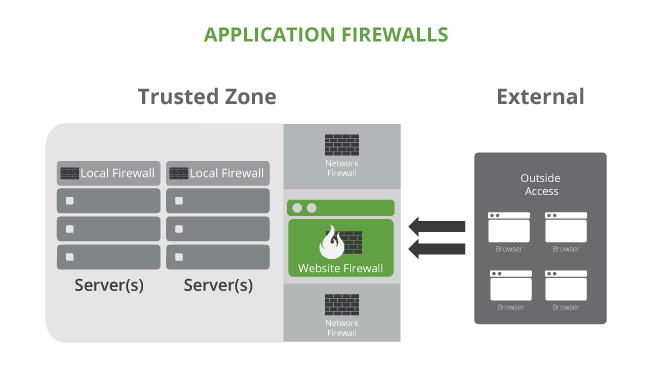 In general, all WAF solutions function the same way. They are basically a wall between your website application and the visitor browsing your website. A WAFs main goal is to impede malicious requests from damaging your website.
The difference among the many website firewall solutions in the market is mainly how they are deployed and their database. The Sucuri WAF is the most advanced in terms of virtual patching. We take research very seriously. Our firewall analysts work hard day and night so we can provide you the most complete and robust solution in the market. Our WAF filters block up to 100% of the attacks your website can suffer from.
Now that you know what a WAF is, let's talk about the Sucuri WAF.
Sucuri Firewall
Sucuri is a website security company that was born to offer website owners a comprehensive security solution. The Sucuri Firewall is a cloud-based software as a service (SaaS) Website Application Firewall (WAF) and Intrusion Prevention System (IPS) developed exclusively for websites.
What is great about the Sucuri Firewall is that it functions as a reverse proxy. The Sucuri WAF intercepts and inspects all incoming Hypertext Transfer Protocol/Secure (HTTP/HTTPS) requests to a website. Then the WAF strips the malicious requests at the Sucuri network edge before it arrives at your server.
Another feature that the Sucuri Firewall offers is that its WAF includes Virtual Patching and Virtual Hardening engines. The Sucuri Firewall mitigates threats as they happen.
The Sucuri WAF keeps the threats far from your website without impacting your website negatively. Quite the opposite, the Sucuri website firewall makes a website up to 60% faster, as it is built on a Content Distribution Network (CDN).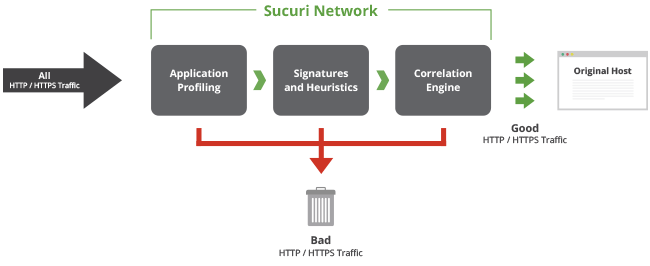 Performance optimization is part of the Sucuri WAF features. The CDN caches dynamic and static content across all nodes in the network to ensure optimal performance around the world. The Sucuri WAF configuration makes adequate preparation for global reach, load balancing, failover, and comprehensive performance improvement.

The Sucuri WAF runs on a proprietary Globally Distributed Anycast Network (GDAN). Anycast allows a network to broadcast an IP to multiple locations from a single node, permitting the nearest node to respond to a request. Imagine your website has a global audience: the website is hosted on a server in Houston, but your main visitors are in Asia and Western Europe. If you have the Sucuri Firewall activated on your website, the content would be broadcasted from a Tokyo and London Point of Presence (PoP) via our Anycast network. The result would be an improved user experience as visitors in Asia would get a response from the Tokyo PoP, and the ones in Europe from the London PoP. To sum it up, since Sucuri WAF runs on a Global AnyCast Network, the nearest node responds to the requests, bringing improved availability, resiliency, and failover capability to any website.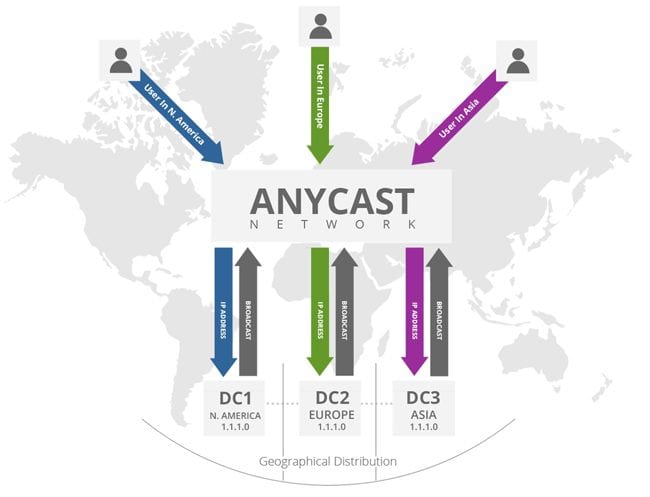 This unique configuration allows for high availability and redundancy if anything fails in the network. Moreover, the Sucuri Firewall offers full Domain Name Server (DNS) services.
Another great advantage of using the Sucuri WAF solution is that it can help you increase your SEO rankings. The inclusion of an SSL certificate and improved speed from the Anycast CDN can improve SEO. You might see SEO improvement after the Sucuri WAF is activated because having HTTPS enabled and using a CDN are confirmed ranking signals from Google.
To sum it up, the Sucuri WAF:
Mitigates Distributed Denial of Service (DDoS) Attacks
Prevents Vulnerability Exploit Attempts, such as SQL injections, cross-site scripting (XSS), remote file inclusion (RFI) and local file inclusion (LFI)
Protects Against the OWASP Top 10 (and more)
Protects Against Zero-Day Exploits
Protects Against Access Control Attacks, such as Brute Force attempts
Offers Performance Optimization with its CDN
How can I add the Sucuri WAF to my Website?
In order to add the Sucuri Firewall to your website, all you need to do is add a DNS A record or switch to Sucuri nameservers. The time to go live is dictated by the DNS Time to Live (TTL). In most cases, it takes from 30 to 60 minutes. If you have any issues during the setup, or if you are not technical and need assistance, our support team can guide you through it.
Conclusion
As you have seen, using the Sucuri Website Application Firewall can be very valuable for your website and business. Not only do we offer protection, but also a performance boost and better SEO, which are like gold for any website owner. If you are wondering why you have not added our Firewall onto your website yet — don't worry. Chat with us and we will help you have your website protected today.