Website malware is no joke. Our own research shows that with WordPress, by far today's most common content management system (CMS), new infections are on the rise. Even with security researchers working constantly to uncover and remediate website malware, new threats continue to emerge — and today there are nearly 2 billion different types of malware. And that highlights the importance of malware and virus scanning tools.
But where do you find them?
The results of a web search might seem daunting with so many different providers competing for your visit. To make things easier, we rounded up five tools you can use to scan your website for malware. If you do uncover any infections, it's critical to take action immediately, whether that means removing malware yourself or hiring a team of professionals to do it for you.
Let's get started with a look at five website malware and virus scanning tools that can keep you one step ahead of infections.
1. Sucuri Site Check
With its straightforward interface, Sucuri Site Check is a completely free option to quickly scan your site for malware and other security issues. You enter the URL of a website, click Scan Website, and then Sucuri begins a remote scan of the site's public pages. For more detailed results, you can have Sucuri's team run a server-side scan of your web property.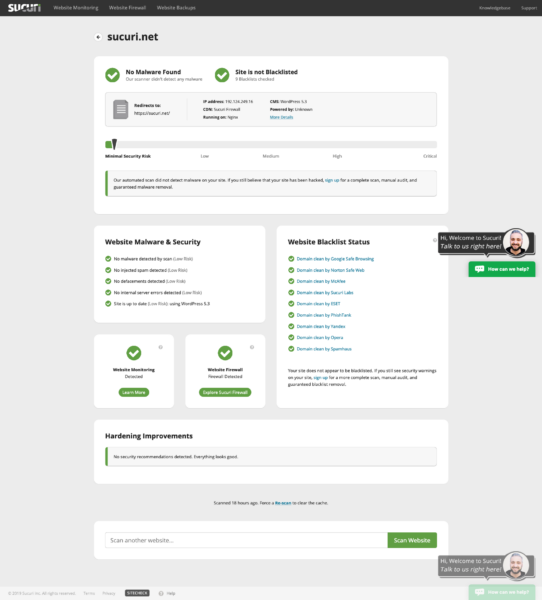 Scan Report Includes:
Known malware
Malware patterns
Blacklisting status
Website errors
Out-of-date software
Malicious code
Security recommendations
2. Google Transparency Report
The stated purpose of the Google Transparency Report is to let potential visitors know if a site is safe to visit. However, website owners can easily run reports on their own sites for a fast and free URL virus check. It's also a good idea to periodically check on how Google sees your online property — nobody wants a warning message next to their name in search engine results.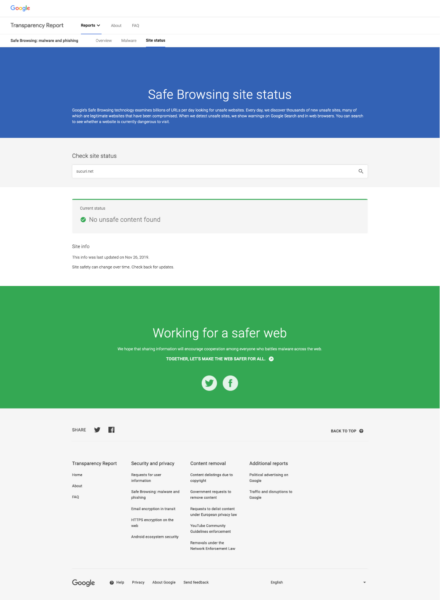 Scan Report Includes:
Current infected status
Last scan date
3. Quterra
Scroll down a bit on Quterra's page, and you'll find their option to have a scan online for website malware at no cost. The scan takes a few seconds, as your site is added to a queue, but the results are comprehensive and offer many useful insights. Quterra also offers a range of paid plans that include more in-depth, server-side scans.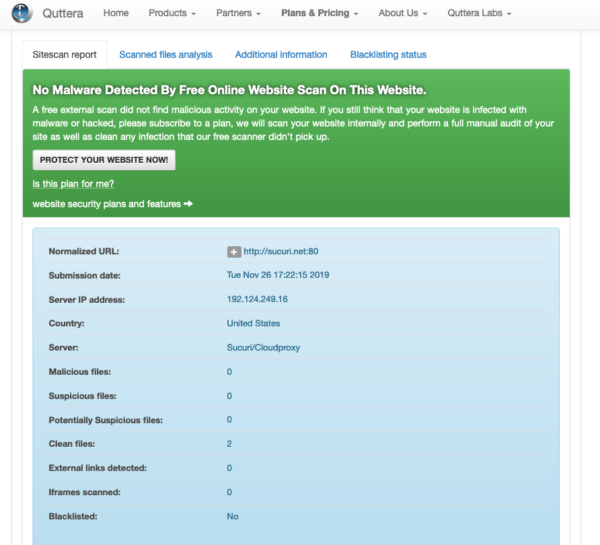 Scan Report Includes:
Malicious files
Suspicious files
Potentially suspicious files
Clean files
External links detected
Blacklisted
4. Linux Malware Detect
Linux Malware Detect is a free, open-source server-side scanner from R-FX Networks. It's engineered specifically for Linux shared hosting environments and includes a file that must be uploaded to your server. While administrators of multiple sites in a Linux environment will likely find it to be one of their most invaluable virus scanning tools, people might be deterred if they're looking to quickly scan a site online.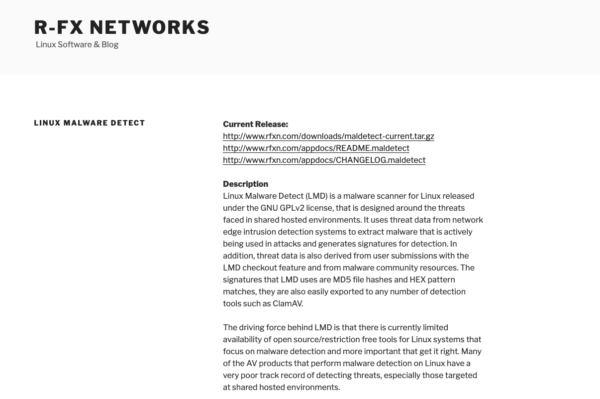 Scan Report Includes:
Quick threat identification
Full path-based scanning
Quarantine queue
Real-time monitoring
5. VirusTotal
Aggregating more than 70 malware scanners, VirusTotal gives you an objective look at the health of an online property. It lets you see details such as HTML meta data, and provides a community forum where you can report malware. You can scan files or URLs, and search for data on a URL, IP address, domain, or file hash.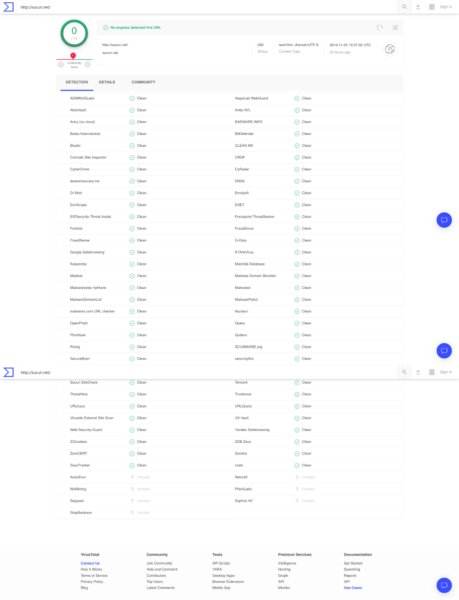 Scan Report Includes:
Malware detection
Domain details
Community reporting
Don't Underestimate the Importance of Website Malware & Virus Scanners
Like household pests, website malware is a lot easier to get rid of when you detect it early. It's free and easy to scan your website for malware today, but costly and disruptive to remediate a badly infected website down the road. So, take a few seconds to check your website for viruses. You'll be glad you did it. You can chat with us anytime. If your website is hacked, we are happy to clean it up for you.